Dating. Courting. Finding your soulmate. Flowers. Chocolate. Cuddly stuffed animals.
Sounds pretty typical of how dating is often portrayed on screen, but not so much for Ryan Reynolds and his more-than-contrarian Match.com commercial. Then again, 2020 was like no year we've ever been through. 
Many businesses took some kind of pivot to adjust to our current and continued altered state. So, if getting through 2020 was like going through Hell, and if online dating in the best of times is somewhat tortuous, then this commercial brought it all together.
A Lid for Every Pot
Typically when you're seeking out a partner, you bond over shared likes or loves. But there wasn't much to love about 2020, unless of course, you go by either Hades or Satan…
…and, according to Match.com, 2020 personified and Satan are a perfect match. So they tapped board member and Peloton-ad magician, Ryan Reynolds, to highlight a different kind of relationship — one that results from loving the very thing everyone else hates. I would have loved to have been in the room when he pitched the idea — and to add further ironic fuel to the fire, Ryan got Taylor Swift to lend her "Love Song" to the spot.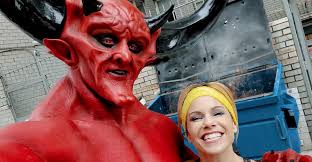 Match Made in Hell
Even with something universally despised, like 2020, Match found a way to suggest that there's someone for everyone. And they did it with stunning wit and a little on-the-nose mockery at dating overall. It's another example of how shifting your perspective and creating relatable content at a time when people need it most, can have a powerful impact on your brand message and your audience.
Somehow, after watching this commercial, it still makes you want to date, because despite the world around them (or because of it), these two are having their best year ever.
I can't wait to see what Match.com comes up with for Valentine's Day.